I recently had to do what I'd been dreading for months—cutting my hair. Yep, I had to snip off nearly 5 inches of hair that had been damaged due to split ends and lack of proper trims. I'd been doing my hair myself for over a year and clearly that wasn't a good idea.
After putting my hair through enough stress and suffering, I finally called the only person in New York City that could rescue my tresses before any further damage could be done—Patrick Wellington of Patrick Wellington Hair Spa. I'd gone to Patrick several times over the years, but stopped because I thought that as a naturalista I could pick the right cocktails and conditioners and be good—not! While many of my fellow BGs do an excellent job maintaining and styling their natural hair, I'm just not one of them.
When I called to book an appointment I was nervous, but knew that my hair would be in good hands. To my surprise I was asked to come in the very next day! Once I sat in Patrick's chair he had never seen so much breakage from a naturalista like me. I informed him that I'd been wearing my hair in a topknot for months, which obviously isn't recommended. Not only was my hair breaking, it was incredibly dry. Plus, it was sprinkled with unsightly gray strands. He quickly assessed that I needed a dark color to cover the grays and a deep conditioning.
Not only were my gray hairs distracting, they were also incredibly dry and brittle.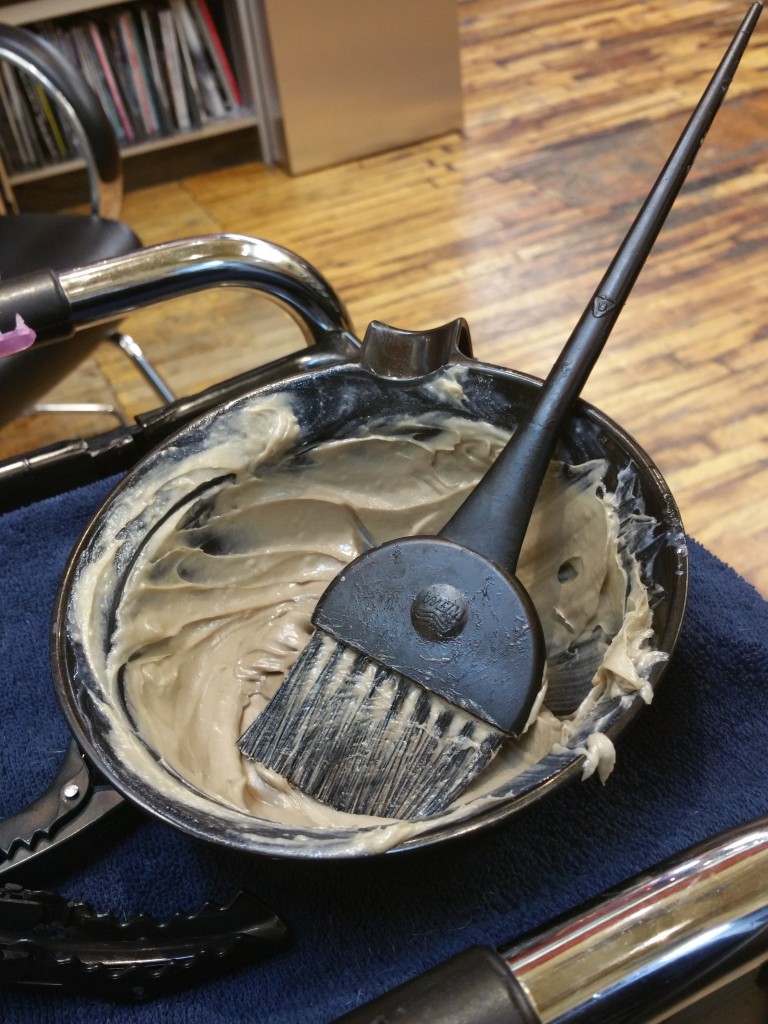 The deep, dark brown color that Patrick applied to cover my unwanted grays. 
As I continued to sit in his chair I knew that I'd probably have to get the "big chop" in order to start over. The night before my appointment I searched through tons of tapered TWAs (tiny weeny Afros) on Instagram and took screenshots of several that I thought were cute. I showed them to Patrick and he said that he'd prefer to blow my hair out to see just how much needed to be cut. Sensing my nervousness about getting a "big chop" (when I transitioned from relaxed hair in 2007 I avoided the big chop and just let my relaxer grow out), Patrick reassured me that he would make it work. And he did.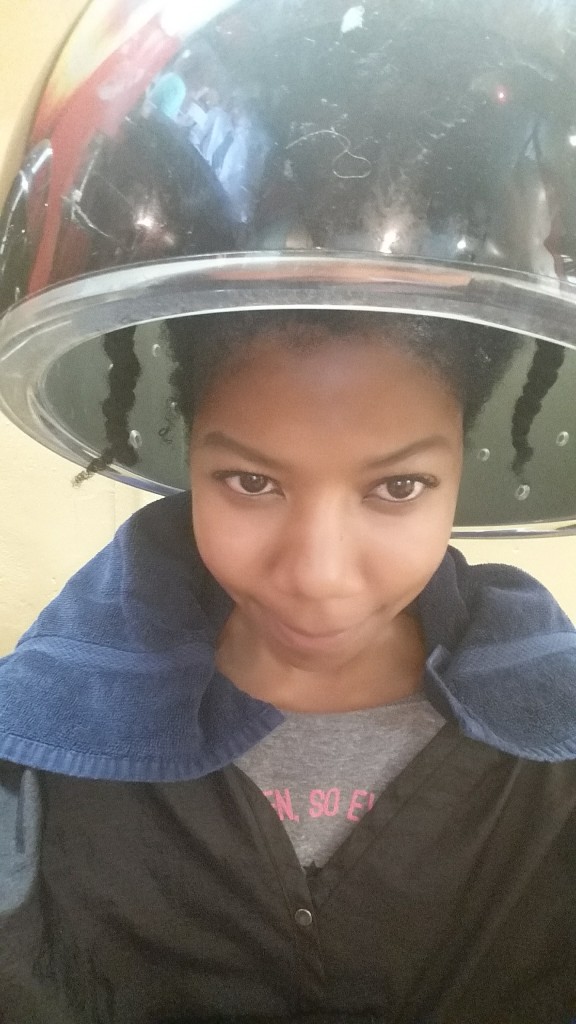 Sitting under the dryer getting a much-needed deep conditioning.
After the color, deep conditioning and blow out, it was finally time to cut away! It was a shock to see myself with straight hair since I hadn't had it blown out in almost two years. I typically don't like my hair silky straight, but I trusted Patrick to work his magic on my mangled mane. Concerned about retaining my curls, Patrick reassured me that my natural kinks and coils would return upon washing. Once he finished flat ironing my hair, he began to cut it into a modern, chic bob! To say that I was blown away with the results would be an understatement. My hair was severely damaged and I left the salon looking as if I had a healthy head of hair! Full of body, my hair was shiny (not greasy) and bouncy. Since I'd worn my hair in a natural topknot or bun for the better part of two years, this was a drastic change for me and I loved it. Although I felt like I was cheating on my curls, I knew that after washing my hair they would return to their natural state.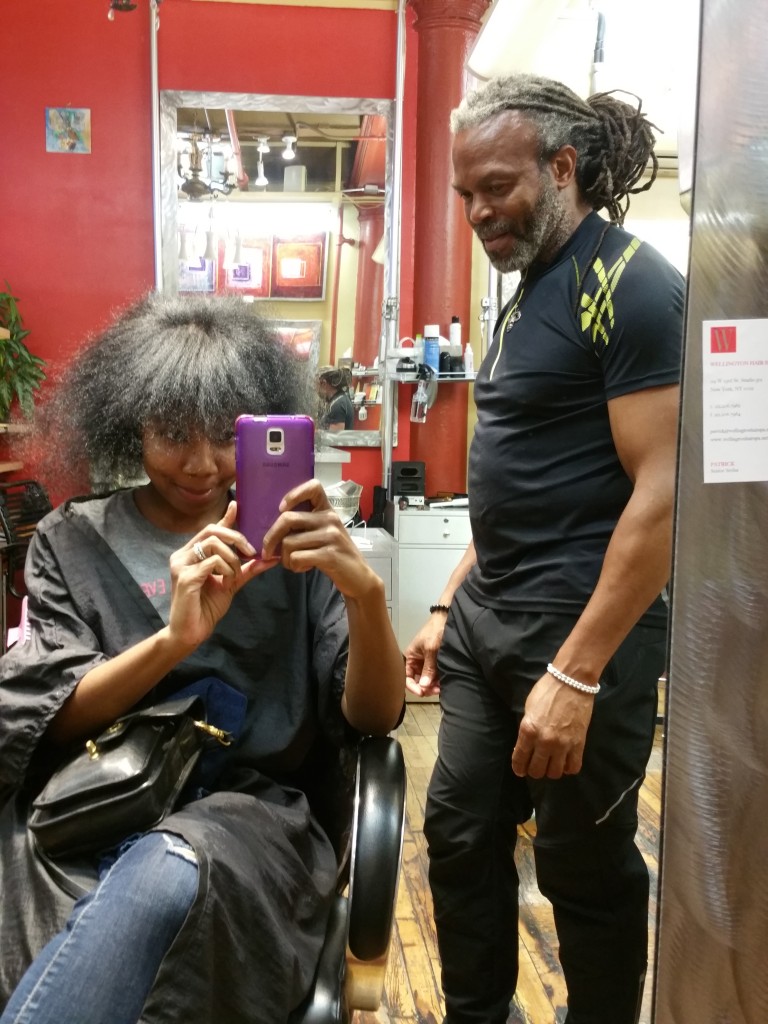 After the initial blow-out.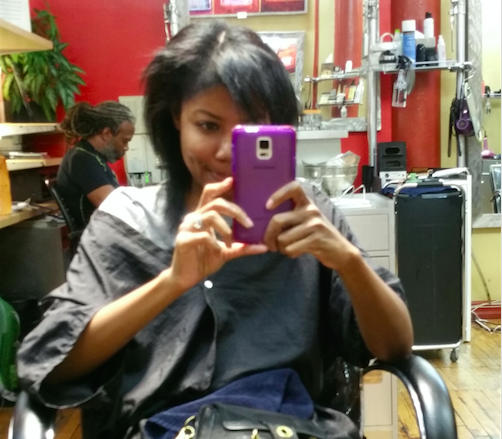 After the blow-out and flat iron.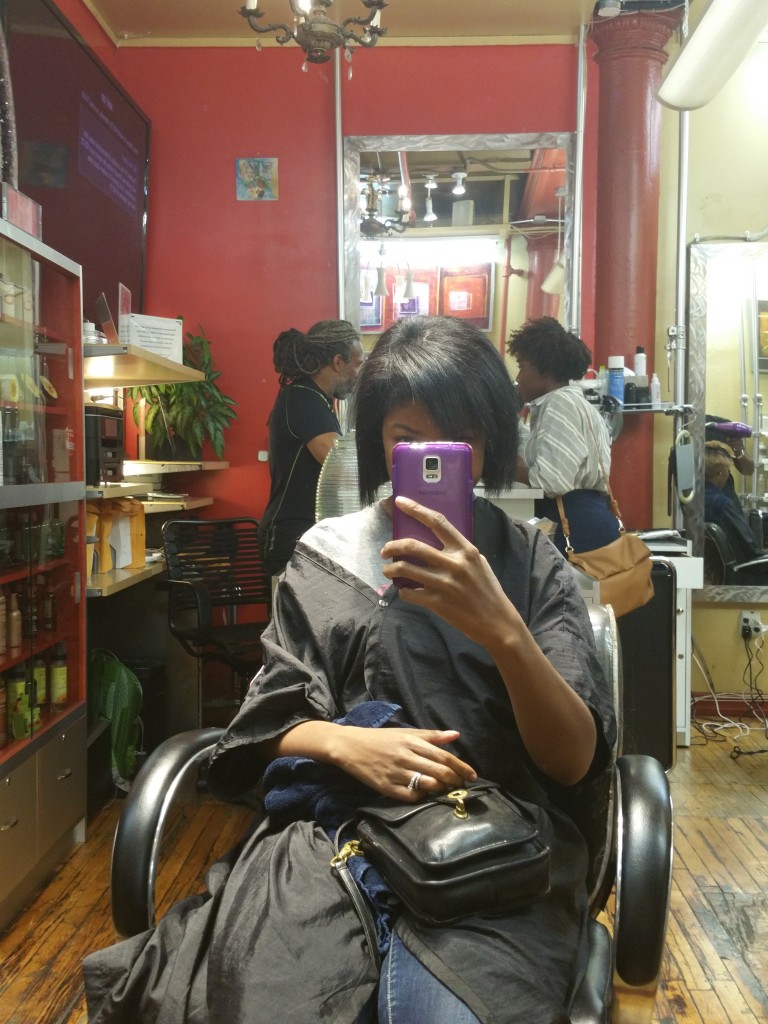 After the initial cut and color.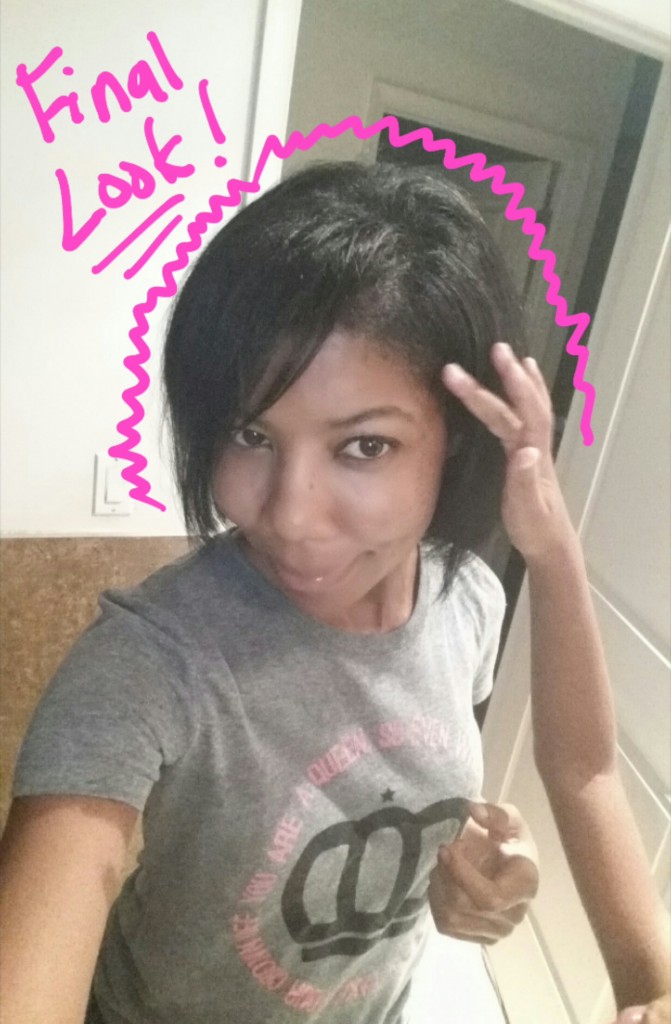 Final look at home—sleek, silk press. Peep my daughter admiring my new short 'do!
Patrick is one of the most knowledgeable and attentive hairstylists I've ever encountered. Plus, he truly cares about the health and the integrity of his clients' hair. If you're in need of a relaxed or natural style, Patrick's your man. And his cuts are priceless! Don't take my word for it, check him out for yourself and tell him BGG sent you! Also, if you're in need of a good massage, on Sundays his studio now offers body relaxations treatments from their on-staff masseuse, Holly.
Main Takeaways: Get frequent trims, switch up your style and moisturize, moisturize, MOISTURIZE! Plus, we naturalistas can do a lot of DIYs with our hair, but sometimes you just need to seek a trusted professional to maintain our hair's health.
Patrick Wellington Hair Spa is located, 119 West 23rd Street, New York, NY 10011. Call (212) 206-7962 to book an appointment. 
Do you have plans to switch up your hairstyle for fall?