Now that Christmas and the New Year celebrations are behind us, it's time to tackle that post-holiday cleanup.
Whether you hosted Christmas dinner at your place or put on a festive New Year's Eve soiree for family and friends, chances are your home is in need of a good ole' top-to-bottom cleaning. Even if you didn't host any holiday fetes, giving your humble abode a thorough scrub gets your year off to a fresh start.
I always dedicate a day to cleaning my home and this year I did things a bit differently. I ditched my typical household cleaning products and opted to try a new one. Like me, I'm sure some of you tend to stick with familiar brands that our moms and grandmothers used. Well, after trying Seventh Generation's line of eco-friendly products, I may never go back to those "tried-and-true" brands again.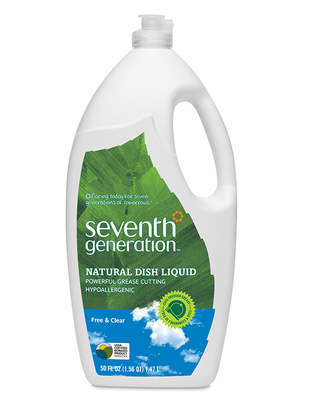 Seventh Generation Natural Dish Liquid available here, $7
Being a mom of two small kids, it's important for me to use brands that are free of harsh chemicals and also good for the environment. While they carry a variety of green, non-toxic household cleaning products, my favorite is the dishwashing soap. This clear, plant-based soap makes dishes spotless with very little effort. Plus, it doesn't have an overwhelming scent for us with sensitive noses.
With the new year, try some new things starting with Seventh Generation cleaning products. It's so easy to stick with brands we grew up with, but they're not always the best for our families or the next generations.
Happy New Year & Happy Cleaning!
Do you do a top-to-bottom cleaning of your home at the top of the New Year? What are your favorite household cleaning products?