With frigid temps sticking around for a couple more months, now's a good time to bring a bit of summer into your bathroom with the fresh and fruity scent of blueberries.
Thanks to The Body Shop, you can treat your body to the brand's re-introduction of their  Special-Edition Blueberry Body Butter for an indulgent pampering fix. The bath & body brand has been tantalizing our senses  with their luxe line of rich and creamy body butters (a variety of 20+ flavors/scents) for over  two decades and this decadent, blueberry-infused classic is no different.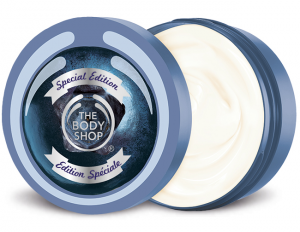 The Body Shop Special-Edition Blueberry Body Butter available here, $20
Packed with moisturizing agents that hydrate and nourish the skin, this body butter contains Shea butter and oil from 500 blueberries! Plus, it's rich in Vitamin E and other fatty acids that leave skin smooth and silky.
I am totally obsessed with this scent. It makes you want to sniff your hands just to get a whiff of the refreshingly sweet smell.
If the reintroduction of the Blueberry Body Butter wasn't enough, there's also an entire blueberry collection (Body Lotion, Lip Butter, Jam Scrub and a Blueberry Sponge) to make you long for summer even more. However, don't wait until summer to purchase this berry good collection, it's only available for a limited time!
What's your favorite body butter scent?